Keno's HOUND DOG TAYLOR Web Site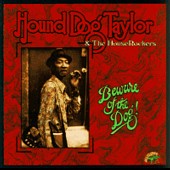 BEWARE OF THE DOG
Released - 1976, Alligator Records. Produced by Bruce Iglauer
Hound Dog Taylor - Lead & Slide Guitar, Vocals, Bass on Kitchen Sink Boogie
Brewer Phillips - Guitar, Lead Guitar on Kitchen Sink Boogie
Ted Harvey - Drums, Backing Vocals on Freddie's Blues

(Click on song for lyrics)
For info on how the rating scale is determined, go here.
REVIEW
Although I love to attend live shows, I am not the kind who digs live albums that much. I prefer when listening to music at home to hear the original studio recordings of a song. With that said, Beware Of The Dog, Hound Dog Taylor's live album, is a rare exception to that rule for me. It's not only my favorite live album, but one of my favorite albums period.
Recorded live a year before his death with his band the HouseRockers, you feel like you get to know Hound Dog just by listening to this album. You could tell by the way he spoke to his audience before most of the songs how much he enjoyed playing for them. And man does the dude play!
The album opens with his most loved song, "Give Me Back My Wig". He sounds better here both vocally and on his guitar, than on the studio cut, which is saying a lot since the original is great. The next song up, 'The Sun Is Shining", starts out like an explosion, as Taylor just tears into his guitar with a powerful riff that sounds a lot like the one he plays on "Shitting At Home Alone" from his Natural Boogie album. But it sounds better here. The distortion he gets out of his guitar on this song (and several others found here) is better than anything Jimi Hendrix ever achieved. You can't help but want to jump up and play air guitar to it! On the next tune, "Kitchen Sink Boogie", bandmate Brewer Phillips takes over the lead guitar spot with fine results as Hound Dog plays a wonderful heavy bass line on his six string. One of the best cover's you'll ever hear of Robert Johnson's "Dust My Broom" follows, as Taylor's guitar cries away.
I can assure you that you will never hear the old folk song "Comin' Round The Mountain", the song which follows, played in the way you will hear it here. Then Hound Dog and HouseRockers get down and play just like the next song's title suggests, "Lets Get Funky". "Rock Me" is another fine number with Taylor's guitar coming in with the right grove at just the right time. Then we get to hear another great one with "It's Alright", with his guitar once again taking off and heading into space. The album closes with it's only real slow song, "Freddie's Blues". Not a whole lot of guitar blaring away on this one, but Hound Dog shows that he can also play and sing slow, and still make you love what you hear. This is a true blues song, added perhaps to remind you he is a bluesman. You might at times forget that since he could rock as great, or better than, most rockers.
I've written many album reviews in the past, and I rarely ever end a review by telling the reader to go out and buy the album. I think it's better for the reader to just decide on their own. But let me tell ya, if you like a heavy guitar with a blues and rock mixture, you got to get your hands on this album! I would also recommend this to anyone who never heard, but wants to get to know Hound Dog Taylor. It's a great album to start off with.
- Keno
To listen to some sound clips from BEWARE OF THE DOG or to buy it click on: Beware of the Dog
Return to Hound Dog's Home Page | Hound Dog's Discography Page