---
IT'S A GAS, GAS, GAS!!
MESSAGE BOARD ARCHIVES/WEEKLY ROCK POLL POST
Return to Gasx3/Poll Post Board Homepage
---
Gasland Message
---
Name: Keno
E-Mail: keno@fairpoint.net
Subject: Poll Post for the week starting Monday, June 20
Date: Sunday, June 19, 2022
Time: 10:45:40 PM
Remote Address: 8.41.160.9
Message ID: 321232
Parent ID: 0
Thread ID: 321232

Poll Post for the week starting Monday, June 20
Well, it doesn't feel like Sunday night to me, even if it was Father's Day today and that's always on a Sunday, but regardless, it's time for me to get this week's Poll Post going, where I write about our 3 new weekly polls. Starting with the Stones poll, we'll enter week 1,194 of voting and week 85 of rating the Stones songs. This week's question will ask this: Rate the Stones song "Too Much Blood", from zero (lowest) to 10 (highest).
>
"Too Much Blood" U.S. single cover (L) Japan single cover (R)
This week we are looking at the main version of this song that appeared on the LP Undercover, and released in 1984, while the song was recorded 2 years earlier in October–November of 1982. We already did rate the long disco version of this one - and that take ended up - after the voting closed, being and still is today, the lowest rated Stones song ever, only seeing a rating of a 2. So, I was thinking that it was time for us to rate the regular release of this one and see just how much higher it rates (and next week we'll do the same thing with "Rock And A Hard Place", which also only had its disco version rated, and it too rated very low).
While credited in the usual matter to the Jagger/Richards writing team, this song was 100% written by Mick Jagger, including all the music. Keith Richards didn't even play on the song (but was in the video), as when Jagger started working on this one in the studio, he only had Bill Wyman and Charlie Watts with him in there that day, and he also had a guy named Jim Barber there. Barber was a roadie for the group, and he played guitar in this original session for this song. A month later, Ron Wood would add in the Lead Guitar part to the number, and that was about it to recording the song band wise, other than Chuck Leavell was also there that day adding in the song's keys. The horns were added in shorty after that.
This one was the earliest Stones song to have both a disco beat to it, and also the first song for the band to have rap lyrics heard in it, too, but neither are sounds that normal Stones fans ever want to hear in a Stones song. Yet this was 1984 - long before modern day rap was happening and MJ's rap actually only sounds like regular talking (to my ears anyway, yet it's considered a Rap/Hip Hop song today, even if I won't call it that).
Jagger noted that he started to write the song's lyrics about a real event - the actions of a sick Japanese man, Issei Sagawa, a crazed cannibal and necrophile (who also was found to being regularly into bestiality, too) who killed a girl he knew in Paris, France (where he was living in 1981), and after having sex with her dead body, he cut up her body and put it in his refrigerator and then slowly ate several different parts of her over several days. After that, he took what was left of her to a park to bury her in broad daylight - and that was where he was caught doing so.
Not sure why Mick wanted to write about this nut and in how he did so, as he went into great detail in the song's lyrics as to what this lunatic did. But what Mick didn't note was how Sagawa ended up being jailed for only 2 years before being released after no trail, as he was found unfit to stand trial by reason of insanity. He was deported back to Japan at that point, lived all these years as a free man while becoming a well-known writer and even was paid to talk to groups of people about what he did (all I can say is - they must be really sick in Japan to even allow this to happen). Today he is still alive and now in his late 70s.
Jagger then wrote the rest of the song about other sick things, like killing others with chainsaws. Real nice lyrics, MJ! Perhaps Mick should have titled this one "Too Much Gore" instead? No question that at least lyric wise, this song is the sickest song ever written by Jagger and recorded by the Stones, and it has never been performed live by the group, since, and I'll make a guess here, that most fans don't wish to ever hear it live. The lineup for this one was: Mick Jagger – Lead Vocals and spoken words (rap), plus some Guitar; Ron Wood – Lead Guitar; Bill Wyman – Bass Guitar, Percussion; Charlie Watts – Drums; with Jim Barber – Rhythm Guitar; Chuck Leavell – Keyboards; David Sanborn – Saxophone; and CHOPS on the Horns. To rate this week's song, just click on the following link: Stones Weekly Poll.
Last week at the Stones poll we voted on this question: Rate the Stones song "Shine a Light", from zero (lowest) to 10 (highest).
"Shine a Light" Mick Jagger's song to Brian Jones
This song received a 10 rating, while taking in 46.8% of the vote. To see the full, finial results from this poll, just click here: Stones Weekly Poll - week 1,193. Or, to see where in the rating standings this one landed, just click on the following link to find out: Stones Song Ratings & Standings - List Page 5.
Now let's look this week's Classic Rock Poll, where we enter week 833 of polling, and this week's question asks this: What's the greatest rock duo/duet ever recorded? (Part 3 of 4).
Rock duo/duet songs
Gosh, after looking at last week's poll results for Part 2 of this question, I was thinking we couldn't get any better songs to vote on for this final week of looking for songs to go up against each other in the final round, Part 4. But damn, I see the songs we'll vote on this week are pure super songs, too, and we just might see real close voting again this week, like we saw last week (I'll talk more about Part 2's results in a bit). Yes, I think we actually have even better songs this week to choose from. For the Beatles alone, I couldn't decide on what last 2 songs to list by them, as I had 3 songs listed at first (and that's too many from one band for one week for this kind of poll question), "One After 909", "Please Please Me", and "We Can Work It Out". I knew the "909" song was in the bag, but what about the other 2? "We Can Work it Out" has one of the best ever duos sung between Paul and John, IMO, but that part of the song is short and only heard in the chorus, whereas "Please Please Me" was a true duo song through-out. So, I went with the latter for that reason. Yet I bet if I had listed the other song, it would also make it into round 4, too. But again, the duo sung on that one is too short, so I decided not to do that. I had the same problem with several Simon & Garfunkel songs when I first put the poll song choices together 4 weeks ago. I easily could have listed 4 of their songs each week, but in doing that, their best songs would get picked each week and then see their votes diluted in the final round of voting, since they would have too many songs listed that fans would have to choose from. The Stones had a few songs like that too, that I ended up not listing "Ruby Tuesday", which had that excellent duo sung between Mick and Brian. But on that one Keith comes in too at times singing, so it really is more of a 3 way sing along once Keith joined in and well, that got me to not list the song and to think, should I run a 3 way/trio poll after this series ends? Well, I got another week to decide on that, maybe we will. I will have to see how many songs would be in such a poll, and hell, the top duo and top trio songs picked in the end could even go up against each other in yet another final poll after that (perhaps). But that would mean too many weeks of similar questions, although seeing a steady increase in the poll voters each week - when we usually see a slight let down in the vote count once the summer months get here, well, maybe you voters do and would like all of that asked? So as of right now running a trio poll in 2 weeks' time is only a maybe, but a 50/50 maybe at that.
But for now, we got Part 3 of this duo/duet question to answer, with another 25 great songs to choose from. Which one will you vote for this week? To see this week's choices and cast your vote, just click on the following link and on that new page you're see another link to where you can vote directly and see the new list of songs to choose from: Classic Rock Poll .
Last week we answered this question at the Rock Poll: What's the greatest rock duo/duet ever recorded? (Part 2 of 4).
Rock duo/duet songs
As I noted above, boy was last week's polling for Part 2 real close. Instead of us picking another 8 songs for Part 4, we got 11, thanks to a 5-way tie for the last spot. In fact, every single spot in the Top 10 had ties, with just 3 votes separating the top songs that tied for first, from the ones that just missed out making it to Part 4. Yes, they just missed out being in Part 4 by one less vote each. I can't ever recall voting this close in such a poll! So, the 11 ones that did make it into Round 4 will be: Proud Mary - Ike & Tina Turner (212 votes total), Two of Us - Paul McCartney & John Lennon (w/ the Beatles) (also 212 votes), Wake Up Little Susie - The Everly Brothers (212 votes); Mrs. Robinson - Simon & Garfunkel (211 votes), Whatever Gets You Through the Night - John Lennon and Elton John (211 votes), You've Lost That Lovin' Feelin' - The Righteous Brothers ( 211 votes); (You Gotta Walk And) Don't Look Back - Peter Tosh & Mick Jagger (210 votes), Billion Dollar Babies - Alice Cooper and Donovan (w/ the Alice Cooper band) (210 votes), Coming Down Again - Keith Richards & Mick Jagger (w/ the Stones) (210 votes), Stop Draggin' My Heart Around - Stevie Nicks With Tom Petty (210 votes), and Under Pressure – David Bowie and Freddie Mercury (w/ Queen) (210 votes).
To see the rest of the results from this poll, including the percentages, just click on the following link: Classic Rock Poll, week 832.
Looking at this week's Beatles Poll, we enter week 584 of voting and the 18th week of rating the Beatle songs. This week's question asks: Rate the Beatles song, "A Day in the Life", from zero (lowest) to 10 (highest).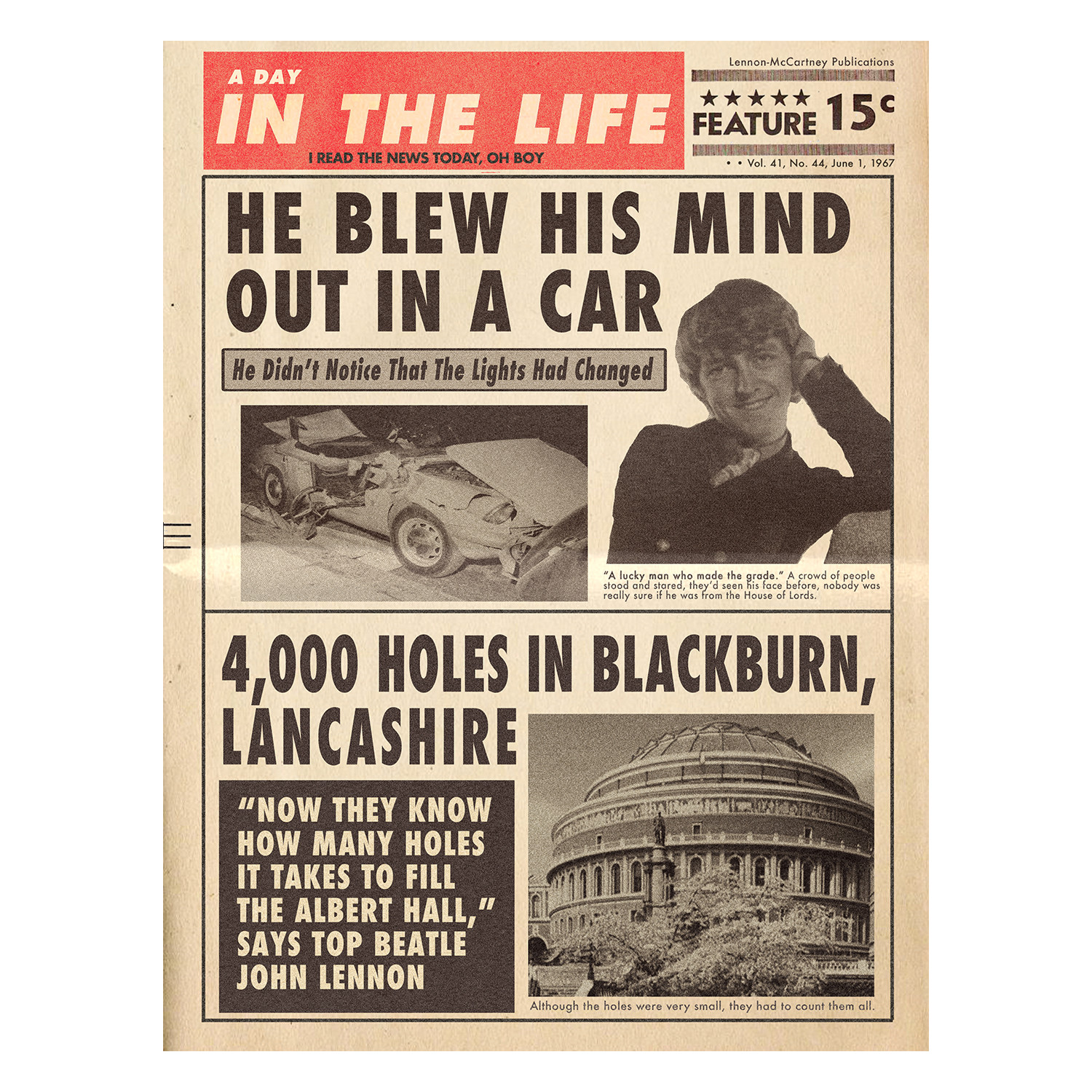 "A Day in the Life", from an old, cool poster making it look like the front page of a newspaper.
Mainly written by John Lennon with a little help from his friend Paul McCartney, this song, from the LP Sgt. Pepper's Lonely Hearts Club Band, was looked at as something very special and totally unusual and different by all Rock fans at the time of its release in 1967. Talk about a song that was way ahead of its time! John started off writing this one about his own life at the time, but then expanded the lyrics to cover other things happening in life (and in death), after a close friend of his was killed, and that event and the lyrics John wrote about his friend's passing, were then used to open the song with. The "lucky man who made the grade" was Tara Browne, a 21-year-old London trust fund kid who had many famous friends, and who Lennon had met through his buddy Keith Richards. Browne was killed in a December 1966 car wreck. Yet McCartney claimed that the 'he blew his mind out in a car' lyrics was purely a drugs reference, and had nothing to do with the car crash (even if Lennon wrote in the lyrics that it was), perhaps Paul noted this as it was Browne who turned Paul on to his first acid trip (but not John, as "Dr. Robert" [actual name Dr. John Riley], a dentist, turned on John and George to LSD together one nite, after a dinner party at Dr Roberts house).
Lennon also added to the lyrics something he had just read in a newspaper article (in The Daily Mail, under the headline "The Holes in our Roads"), about there being 4,000 potholes in the roads of Blackburn, Lancashire. Plus, McCartney also spoke about yet another line in the song "I'd love to turn you on", and that this one came indirectly from the LSD guru, Dr Timothy Leary, Lennon's friend, as Paul noted that: ""This was the time of Tim Leary's 'Turn on, tune in, drop out' and we wrote, 'I'd love to turn you on'"(note: John wrote it, not you, or "we", Paul).
There was this gap in the song when they were recording it, where Lennon needed to still come up with lyrics for, so their road manager and sometime engineer, Mal Evans, put in a ringing alarm clock there so they could later fill in that part with whatever music or lyrics Lennon came up with, and then they would remove the alarm clock ringing. Lennon decided to use some already written lyrics from a piece that came from a song that McCartney had wrote some opening lyrics to and then abandoned writing the rest of the song. John liked the discarded lyrics that Paul had wrote and he wanted to use them in that very spot of the song where the gap was, with the opening lyric being: "Woke up, fell out of bed, dragged a comb across my head… " were the lyrics Lennon liked and used, yet according to he, McCartney didn't feel good about adding those lyric to the song, as he felt John's song was way above those simple lyric he had written a few years earlier – about himself getting ready for school one day as a teen. Lennon saw it differently and had Paul sing that line of the song. After that, since the line's lyric started off speaking about getting up in the morning, John decided to keep the alarm clock ringing in the song just before Paul sang his part, since it ended up fitting in there just right, even if when the ringing alarm was placed there, nobody had any clue that it would stay in that spot - but it now fit in there perfectly, even if this only happened by accident and wasn't at all planned!
Lennon and McCartney also came up with the idea to have classical musicians deliver what producer George Martin called an "orchestral orgasm". So McCartney, along with Martin, both conducted the musicians, having them play from the lowest note on their instruments to the highest all at once. Two weeks after that, the Beatles added the last touch to the song: the piano crash that hangs in the air and goes on for a full 54 seconds. Martin had every spare piano in the building hauled down to the Beatles' studio, where the Fabs, along with Martin and roadie Mal Evans, played the same E-major chord all at once, as engineer Geoff Emerick turned up the faders to catch every last trace of the keyboards' sound until it totally faded away. No other song ever ended in such a way before this one, nor has any since!
Of course, the hung-up establishment of 1967 hated the song once it was released, and they tried to stop fans from hearing it, as the insane BBC (the only radio station on the air in the UK back then) banned the tune for the druggy line "I'd love to turn you on", which in turn made fans love the song even more (and hate the morons at the BBC). When Martin later asked Paul if this was a drug song, he noted to him that, "Yes indeed George, it's about drugs... mainly pot" (although Lennon later claimed, LSD, too). And George M said to Paul, "No, no. You weren't on it all the time" "Yes, we were George" was Paul's reply, and he added: "All of the songs on Sgt. Pepper were made that way, it was a drug album, totally."
The full lineup for this song was: John Lennon – main Lead Vocals, Acoustic Guitar, Piano (final chord); Paul McCartney – Lead Vocal (middle-eight), Piano (throughout and final chord), Bass Guitar; George Harrison – Maracas, Piano (final chord); Ringo Starr – Drums, Congas, Piano (final chord); with... Mal Evans – Alarm clock, Piano (final chord); George Martin – Producer, Orchestral arrangement, Harmonium (final chord); and in the Orchestra: Erich Gruenberg, Granville Jones, Bill Monro, Jurgen Hess, Hans Geiger, D. Bradley, Lionel Bentley, David McCallum, Donald Weekes, Henry Datyner, Sidney Sax, Ernest Scott, Carlos Villa – Violin. John Underwood, Gwynne Edwards, Bernard Davis, John Meek – Viola; Francisco Gabarro, Dennis Vigay, Alan Delziel, Alex Nifosi – Cello; Cyril Mac Arther, Gordon Pearce – Double Bass; John Marson – Harp; Roger Lord – Oboe; Basil Tschaikov, Jack Brymer – Clarinet; N. Fawcett, Alfred Waters – Bassoon; Clifford Seville, David Sandeman – Flute, Alan Civil, Neil Sanders – French Horn; David Mason, Monty Montgomery, Harold Jackson – Trumpet; Raymond Brown, Raymond Premru, T. Moore – Trombone; Michael Barnes – Tuba; Tristan Fry – Timpani; Marijke Koger – Tambourine.
To vote in this week's Beatles poll and rate this song, just click on this link: Beatles Weekly Poll.
Last week at the Beatles poll we answered this question: Rate the Beatles song, "Something", from zero (lowest) to 10 (highest).
"Something", from the Beatles film promo clip, showing George Harrison and his first wife, Pattie Boyd. But no, the song wasn't about Pattie at all.
Okay, so it's time now to start playing that old broken record again and repeat after me… Like all the Beatle songs before it, "Something" scored a 10 rating, while taking in 74.2% of the vote…. Yet I can say that I was very surprised in how low a 10 rating it received, barely making the Top 10. To see the full, final results from this poll, just click on here: Beatles Weekly Poll – week 583. Plus, you can also check out the results and standings at The Beatles Song Ratings and Standings page, located at the domain's Lennon site.
So, it's time to close out yet another Poll Post…. I noted here last week how our weather where I live is insane, and the beat just goes on and on… After seeing no rain at all for the entire month and then some, and experiencing mainly only hot temps already and seeing two 90 degree days (F) this early in June, the last 2 days have been like fall here with temps stuck in the 50s during the day along with a ton of rainfall! But we need the water here really bad, so we'll take it, even if it ruined many outdoor planes for Father's Day. Me and my grandson and his new family (I still have to get used to saying that) had planned a bar-b-que, but that's not easy to do in the rain, so we had tacos inside instead and I'll get to bar-b-que alone tomorrow since my boy has to go to work (even if tomorrow is an official U.S. holiday, he wasn't given the day off).
I hope all of you have a great week ahead!
Keno
Gasland Thread
---
Post Follow-up
---
Note: Do not hit the "Post Message" button more than once, even if it is taking a long time to post your message. Doing so may cause a double post to appear and could slow down your posting time even more.
Filter Threads/Archives
---
---
Download your free, customizable Burton Networks Message Board now!
© 1998 - 2022 by Keno Internet Services, except where otherwise noted. All rights reserved.