---
IT'S A GAS, GAS, GAS!!
MESSAGE BOARD ARCHIVES/WEEKLY ROCK POLL POST
Return to Gasx3/Poll Post Board Homepage
---
Gasland Message
---
Name: Keno
E-Mail: keno@fairpoint.net
Subject: Poll Post for the week starting Monday, Sept 16
Date: Monday, September 16, 2019
Time: 12:55:42 AM
Remote Address: 97.107.69.29
Message ID: 320335
Parent ID: 0
Thread ID: 320335

Poll Post for the week starting Monday, Sept 16
Let's get our weekly poll post underway for our 4 weekly polls, and as usual we will start off with the Stones poll, where we enter week 1,051 of this poll with this special bonus Stones Album VS question: Metamorphosis vs Dirty Work, which album do you like best?

vs

As promised last week, this week we will vote in a bonus round to the now completed Stones Album VS Polls. I had a few (but not that many) emails throughout the last few years asking why I never included the Metamorphosis album in the series battles. The reasons was simple, first, while a somewhat interesting album, it wasn't a true Stones studio album, especially side 1, which on at least a few songs only Mick played on, as these songs were demos made for other bands to consider using. That, and the fact that the Stones had no control over this LP – on how it was put together, and how it was even released. So the bottom line was, that I and most fans didn't feel that this LP was a true Stones album, an interesting LP, yes, but not too much more than that. Still, there were a few real good songs on here; my favorite was the Bill Wyman song "Downtown Suzie", with "Jiving Sister Fanny" another winner. Yet while I would rate this one above - perhaps their 2 poorest studio LPs, many disagreed with me on this and feel that overall it was just plain bad and their worst album overall, even worse than DW.
So with that noted, and in truth I don't know for sure how most fans feel about this one (and as I type this out I just wondered to myself, why didn't I ever ask a poll question on this asking something along those lines? Well, I didn't), but for this week's special bonus round, I'll give it a go – and yes, at the same time I'll give Dirty Work one last shot at – winning a round. Now no, this one won't count in the standings since the Meta LP wasn't ever a part of this series – and no, I'm not gonna run questions about it for the next 25 weeks now so it can join in on this series. But I will give it a one week shot, and again, it won't show up in the standings – since this is just a bonus round and yes, the overall series ended last week (I'll talk about that next).
So, do you think that Dirty Work could actually win this one? Or at the least, could it beat its best showing - even if it loses again, but maybe this time lose in a close matchup, something DW never has done, as in all of its 24 rounds, it lost every single time in a landslide. So, here's a last, bonus chance for DW to maybe perform differently, yes, one last time for DW to maybe have a close battle. Right? Or do you think that even Meta is gonna win in a landslide against DW? Well, there's only one way to find out, and we will do that in this week's poll!
One last thing about this special round, I'll make Metamorphosis the host LP. To see the songs that appear on Metamorphosis, click here: Meta, and for the songs on Dirty Work, click here: DW… Now, 2 things on these links. First, I never reviewed the Meta album at my site before, as I only reviewed 4 or 5 of the songs on it, since – well, for the same reason I never involved it in these polls. It really wasn't a true Stones studio LP and only true Stones studio albums got reviewed by me. So for you to see the song list for this LP, I got to send you to the Wiki website – and as you true Stones fans already know, that site is filled with misinformation. I could not help but notice how many mistakes and misinformation they give out over there on this one album. So in case you start to read up about each song noted on there, do realize that a lot noted on that site is totally wrong and written in error. I did once try to fix some of the mistakes there myself for different pages on the Stones, but there are these 2 morons who think they are editors there and who will take down your corrected info (anybody can do that, which is just one thing wrong with how Wiki is set up). So it's a waste of time trying to fix that site – at least when it comes to what is written on the Stones there anyway…. Then also remember when looking over the songs at my web site for DW, to ignore my very low ratings for the songs that you will see there for the LP, as I never wish to influence anybody before they vote with what I have down there for each tune. You need to decide on your own which LP you feel has the better songs on it.
To vote in this week's Stones poll, just click on: Stones Weekly Poll.
Looking back at our Stones poll last week, the question was: Sticky Fingers vs Goat's Head Soup, which album do you like best?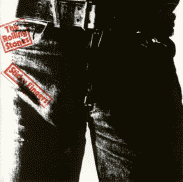 vs

So, last week was the very last round of this long running series, and yes, Sticky Fingers won in a landslide (taking in 86% of the votes, about what I expected to see it win by over a pretty good GHS LP, and clearly a totally clean vote!). So SF ends the series undefeated in first place, at 24-0, while GHS will end with a 19-5 record and ends up in 6th place in the standings.
Now I noted last week that I would do a rap up on this series – in this week's Poll Post, like right here….but… I'm just not up to it tonight, so sometime in the next few days I will do that in a special new post.
To see the final tally from last week's final Stones Album series, just click on: Stones Weekly Poll - week 1,050. Or, you can check out the final results from this match and also view the final album standings from all of these polls, over at the Stones VS Page 1. But wow, after all of these years – this series, the longest ever run series for our polls – and by a wide margin, is actually all over! It's gonna be weird not having it run anymore – and no, I still haven't come up with anything new to replace it, either. Plus next week, the regular weekly Stones poll, which hasn't been run since the first week in June, will return, too. I haven't a clue on what I'll ask yet, but I'll come up with something.
Okay, lets now head on over to the Classic Rock Poll, where it enters week 691, and as usual we will vote on 2 polls in this one week for this Rock poll. For the first Rock poll question, we will ask this: What is the best Rock/Pop song sung in a non-English or bilingual language that was a hit in English speaking countries?
Boy, coming up with a photo (above) to go with this question was harder than coming up with the 35 songs that I was able to find to list for this interesting question. But anyway, we have never answered a question quite like this one, and once I put all of the songs together for this, I realized this poll is gonna be fun to run!
If there's one major country out there where most of the people only speak one language, it has to be the U.S., right? Too many in this country will actually hold it against you if you speak another language other than English in front of them. I always felt that was a major mistake that this was a fact, and I'm glad that in schools today (well, at least here in Colorado anyway) our kids are taught a second language starting now in kindergarten. I think that's important and cool. Yet with that noted, at least those here in America never seemed to have a problem with songs that aren't sang in English, or are only partly sang in English. Now in other English speaking countries, like Canada and England (for example), I don't know for sure how kind they are to such non English songs there, other than I know a few of the songs listed this week were actually hits only in England - and not here (more on that below).
So anyway, this should be a fun poll to run. Now all of the songs listed were hits in English speaking countries, and to get listed, while they could have a lot of English lyrics to them, they had to at least have some other language sung in them too. Other than there's one exception… 5 songs listed were sung in gibberish, and yes, I know that gibberish isn't a language, but since gibberish is non English, such songs count and are listed. But, if a song was written in and sung in English and only sounds gibberish - since the person singing it sounds awful (think Tiny Tim) - then the song doesn't count and isn't listed. The Beatles had 2 such songs sang in gibberish, both at their endings - and one, "Sun King", actually inspired at least one song that is listed. "Solar Prestige A Gammon" by Elton John, was written and sang using 99% gibberish words while sung mainly with an Italian accent and was 100% inspired by the Beatles song… Then we have another such song, the Monkees' "Zilch", which was a very unusual gibberish song. The words to this insane number are actually not written or sung in gibberish at all (plus "Mister Bob Dobalena", who's name comes up in the song, was actually a real person), but sung in English – but the lyrics, which can clearly be heard (so no Tiny Tim type of singing here) make no sense at all and mean absolutely nothing (hence the song's title), therefore the song is totally gibberish... But other than the 5 songs listed that are sung in gibberish, the rest listed are sung in non-English languages, or are bilingual.
One song listed, "(Si Si) Je Suis un Rock Star" by Bill Wyman, which was sung in English and French, is best known as the only true hit single by a solo Rolling Stone, as Bill released this in 1982 while still very much in the band. He at first had no intention of releasing the song, as he wrote it and recorded it as a demo for the late singer Ian Dury. But after hearing it, Dury felt that Wyman would have a hit single with the song just the way it was, and he didn't record it for that reason. So Bill released it as it was and yes, it became a Top 15 hit on the UK charts (and even a bigger a hit in other English speaking countries, including making the Top 5 in Australia [but it was never released in the U.S. as a single]) and it stayed on the Billboard Top 40 chart for 10 weeks in the UK. So that would be one example of a non-English song released outside of the States that was a big hit in several other English speaking countries.
Now again, the song doesn't have to be a Rock song to get listed, as long as it was a Pop song and a hit released sometime between the mid '50s, up until around 1990 or so (the timespan that our polls always follow... for the most part). Also note that if you're not sure if you know a song or not, all of them can be found on YouTube - but there are way too many songs for me to link to their videos, so just look then up yourself if you need to hear them before you vote.
One last thing about the songs listed, they were sung in a total of 9 different languages (or in gibberish). To vote in this week's first Rock poll, just click there: Classic Rock Poll, and when you get to this page, choose "Poll 1" to vote on this question.
This week for the video polls (which if you missed last week's Poll Post, are now being run as the second Rock poll question of the week, as the Rock VS polls are now on hiatus), we will ask this: Rate Fleetwood Mac's official music video of "Go Your Own Way"
This song was written by, and the lead vocals sung by, Lindsey Buckingham, and it's about the ending of his relationship with bandmate Stevie Nicks. This video, filmed live, is one of those where perhaps the camera work could have been better. While it makes total sense that Buckingham is shown a lot, why is Mick Fleetwood and Nicks shown so much over the 2 McVies? Okay, the song is about Stevie and she looks so damn hot in this video, and she does sing half of the backing vocals, too. But Christine McVie sings the other half of the backing vocals on this song - yet you won't know it until the song is almost over, since she isn't shown singing until the last 50 seconds of the song. Then her ex hubby John, one of rock's best bass players, is also seldom seen, really not until the second half of the song. This is the kind of camera work we expect from the Stones when they only show the Glimmers for 70 or 80% of a video, but we don't expect this from other bands.
There will (as usual) be a link at the voting page so you can see this video before you vote. To cast your vote in this week's second Rock poll, just click there: Classic Rock Poll, and when you get to this page, choose "Poll 2" to vote on this question.
Now let's look back at last week's 2 Rock polls, starting with the first poll question that asked this: What is your favorite song that has an instrument noted in its title?
Some very close voting in this one, other than the top spot for first place won out by a full percentage point (well, by 0.9% anyway), that being "While My Guitar Gently Weeps" by The Beatles. Second was the cover of "Mr. Tambourine Man" by The Byrds, and finishing third was "Bang A Gong (Get It On)" by T. Rex. To see the full, final results from this poll, just click here: Classic Rock Poll 1, week 690. Or to view the Top 10 results from this poll on our list page, you can do so by clicking here: Top Ten Lists, Page, 16. The results will be found on the bottom of the page.
Looking back at last week's Video Rock poll, the question asked: Rate Joe Cocker's live performance music video of "The Letter"
Well it's been like a light year since the top score for this poll wasn't a 10, as once again last week, the very same deal took place as far as first place went. You can click here to view the full, final results: Classic Rock Poll 2, week 690. Or you can check out where the video ended up in the video poll standings by clicking here: Top Ten Lists, Page, 16, and it will be the second list you see on the page.
Okay, time to close out this week's Poll Post in the way we always do, by talking about the Beatles poll, where we enter week 442 of this poll, and the question will ask this: Of the 3 different debut albums released by The Beatles, which one was the best?

vs
vs

Please Please Me was released in the UK on March 22, 1963, and some will argue is the only true Beatles debut album. But if you lived in the U.S., you knew nothing of that LP at all at the time, and for most U.S. fans, the Beatles had 2 debut LPs, Introducing... The Beatles, which was released on January 10, 1964 on Vee-Jay Records, and then 10 days later, on January 20, 1964, Capitol Records released Meet the Beatles. Yet many U.S. fans purchased Introducing... The Beatles after they got Meet the Beatles and will say this was the true debut LP, while those of us who had heard of the Beatles before MTB was released, and got Introducing... The Beatles first, claimed it was their debut, and it was released 10 days earlier. But the truth was and still is, that all 3 LPs are looked at today as debut albums, even if for the most part, only Please Please Me is available today and the true debut as far as the Beatles as a band went. The other thing was that Introducing... The Beatles was really the same exact album as Please Please Me, other than it contained 2 less songs on it and the order of some of the songs were different. When first released, "Ask Me Why" and "Please Please Me" were not on the U.S. album. But a month later, they were on the LP and "Love Me Do" and "P.S. I Love You" were dropped. Why did the U.S. release always have 2 less songs? I don't know for sure, but I heard that in the U.S., more than 12 songs on an LP was considered at the time too many songs for an album. You can consider either version of the LP when answering this question; just don't consider all 4 of the songs together for that one LP.
To vote in this week's Beatle poll, just click here: Beatles Weekly Poll
In last week's Beatle poll….the question asked was: Help! (U.S. album cover) VS Help! (UK album cover), which front cover is better?
vs
This poll results was almost exactly like the one held 2 weeks ago that asked the same question for their first movie's album cover. That is, the totals were neck and neck all week long and the winning LP cover won out by only 2 votes. To see which album cover that was, just go here: Beatles Weekly Poll – week 441. Or to see the final results on Beatles Album Covers Page, click on: Beatles Album Covers List Page for the results.
So that about does it for our Poll Post!... It's been a sad last few days in the Rock world (as you all must know by now) with the passing of 2 rather big rock stars, with Eddie Money passing away on Friday, and then today (that's Sunday still for me) one of the 2 lead singers in the Cars, Ric Ocasek passed away. Of course, their other lead singer, Benjamin Orr, died about 20 years ago. But Ocasek was looked at as the band's true leader, since he wrote most of the songs, including most of the ones that Orr sang lead on. He was also the band's lead guitarist, too. Both Money and Ocasek were 70 years old. So some sad news there indeed.
I thank all of you for voting in all of our polls!
Keno
Gasland Thread
---
Post Follow-up
---
Note: Do not hit the "Post Message" button more than once, even if it is taking a long time to post your message. Doing so may cause a double post to appear and could slow down your posting time even more.
Filter Threads/Archives
---
---
Download your free, customizable Burton Networks Message Board now!
© 1998 - 2020 by Keno Internet Services, except where otherwise noted. All rights reserved.