---
IT'S A GAS, GAS, GAS!!
MESSAGE BOARD ARCHIVES/WEEKLY ROCK POLL POST
Return to Gasx3/Poll Post Board Homepage
---
Gasland Message
---
Name: Keno
E-Mail: keno@fairpoint.net
Subject: Poll Post for the week starting Monday, Sept 2
Date: Sunday, September 01, 2019
Time: 10:50:26 PM
Remote Address: 97.107.69.29
Message ID: 320324
Parent ID: 0
Thread ID: 320324

Poll Post for the week starting Monday, Sept 2
Time to talk about this week's poll post for our 4 weekly polls, and as usual I'll start off with the Stones poll, where we enter week 1,049 of this poll, and this week's question is: Their Satanic Majesties Request vs 12x5, which album do you like best?

vs

This week the Satanic Polls takes its final bow, and after this week's poll, there's only one match left for this Stones Album VS poll! Wow, we're almost done with this one, and for this second to last match, this week the host LP is Their Satanic Majesties Request, which has an overall record of 10-12-1 in these matchup's, which places it in 14th place, or just below the middle of the pack. This week 12x5 shows up again, as it was the host LP last week, and after last week's battle, its record is now also at 10-12-1, so it's tied with Their Satanic Majesties Request in the standings. That means this final round for these 2 LPs will also establish which one of the 2 will end up ahead of the other in the final standings.
To see the songs that appear on Their Satanic Majesties Request, click here: TSMR, and for the songs on 12x5, click here: 12x5… Just remember when looking over the songs at my web site, ignore my ratings for the songs that you will see there, as I never wish to influence anybody before they vote with what I have down there for each. You need to decide on your own which LP you feel has the better songs on it.
To vote in this week's Stones poll, just click on: Stones Weekly Poll.
Looking back at our Stones poll last week, the question was: 12x5 vs Aftermath, which album do you like best?

vs

or

Somewhat close voting in this one, but Aftermath did lead for the entire week, too. To see the final poll numbers, click on: Stones Weekly Poll - week 1,047. Or, you can check out the final results from this match and also view the updated, current album standings from all of these polls, over at the Stones VS Page 1.
Next up is the Classic Rock Poll, and for one last week as the main Rock poll question - we will ask another rock video question (stay turned to read why the video polls will no longer be run as the main Rock polls after this week – I'll cover this after the VS poll results, just down a bit). This is week 689 of the Rock poll, and as usual we still run 2 polls a week in this poll. So for this first, main poll the question, we will answer this: Rate Crosby, Stills, Nash & Young's new official music video of "Teach Your Children"
Have you ever seen this rather new video for this very old song? Graham Nash, who wrote the song, put together a brand new video for the tune just last year (in 2018) when a greatest hit album of songs he wrote, came out. This video shows and covers things that were happening in the late '60s when the song was written and released, and then shows current events of today, too, all mixed into one. Even Trump and his wife Melania are shown in the video. Trump is shown when the lyrics "The children's hell" is sung - perfect, other than he isn't just the children's hell of course but the hell of the entire world at the moment. Then Melania is shown wearing that insane and heartless coat that read on the back "I Really Don't Care" – remember that? I used to at least like her (well, I liked looking at her, anyway) - until that one day anyway, when she showed everybody that she is nothing but a pig too, just like her old man…. Anyway, after that in this video, a couple of people are shown wearing coats saying things on their backs like "We do care". If you are a right wing extremist who loves Trump, you won't dig this video because of that perhaps, yet it's just a small part of the video. But if you're a peace loving person who also loves your kids, and everybody else's kids, well I know you will like this new video a lot, as it's very powerful indeed. I should also note that another interesting thing about this video is that it's actually made with all drawings of real life events – coming from actual film footage of things that happened – but shown here in drawings, which for sure should be also added into how you vote for this video, as it is a very different kind of video, indeed.
To vote in this week's first Rock poll and to see this video, just click there: Classic Rock Poll, and when you get to this page, choose "Poll 1" to vote on this question.
For this week's second Rock poll, aka the Rock VS poll, its question asks this: "867-5309/Jenny" by Tommy Tutone VS "Beechwood 4-5789" by The Marvelettes. Which song about using the phone to get a date, is better?
vs
There are a lot of songs about the telephone, and yes, I got to run a full poll on this sometime in the future. But for now, let's just look at these 2 songs for this week's verses poll.
"Beechwood 4-5789" by The Marvelettes came out first, way back in 1962 when Rock was still young and telephone numbers still had letters and words in them (no, telephone numbers back then didn't just have "numbers" in them!). How many of you remember those days, or were even around? Well you gotta be more than 55 years old to recall any of this, as sometime around 1970, perhaps it was in the later '60s, the old phone numbers with letters and words were finally ended. But that's the reason that even today, phones still have letters on them, located next to the numbers, you know, the number 2 is also used for the letters "A,B and C", but today all they are ever used for is spelling out phone numbers in words for businesses, and hell, even that is hardly used anymore today. But yes, before the '70s, all phone numbers had letters that were part of a word, in them. The word in the number was actually the name of the telephone exchange that the phone line was on. My old phone number as a kid (well, actually my parent's number, I didn't have my own number back then, unlike some kids today have) was "Ivonhoe 3-2672", or "IV3-2672". The first 2 letters were always shown in caps and today that phone number would just be "483-2672", but again, those names and letters were to name the telephone exchange you were on. Of course, this was before we had area codes, and while by the mid '60s most U.S. cities started to get their area codes put in place, most rural areas in the U.S. didn't, so it wasn't until the late '60s or early '70s that the area codes took over (at least in the States and Canada) and are still used to this very day. But back in 1962 when "Beechwood 4-5789" by The Marvelettes came out, that was a real phone number and how one would give out their phone number, and it would be dialed as "BE4-5789", and not as "234-5789", as we dial phone numbers today - but of course, today it also comes with the area code first - along with a "1" before the area code - if located in the U.S., as the "1" IDs the country as a U.S. number - something else that we didn't have or use back in the '60s (or '70s either for that matter). I believe that first single number digit came about sometime in the '80s or so.
So there for those of you under 50, was a history lesson on telephone numbers, but back then when there were letters in phones numbers, there was of course no texting, or internet at all, and your phone and giving out its number was the only way to set up a date, unless you asked in person.
The Marvelettes had a major hit single with this song (then the Carpenters in 1982 covered it and had a hit with it, too), as this song really rang a bell (sorry for the pun). The tune was written by Marvin Gaye, along with William "Mickey" Stevenson and George Gordy, and it reached the Top 20 of the Billboard Hot 100 chart at number 17 in the autumn of '62 for this girl group, while on the R&B chart it was a Top Ten hit at #7. The Marvelettes lead vocalist was the late Gladys Horton, and as was the case on so many '60s songs, The Funk Brothers played the music heard on this number, which included the song's lyric writer, Gaye, who played the drums on the song. Many forget that Gaye started out as a session drummer first, and around this time started to write lyrics, but he didn't become a known as a successful singer for another couple of years after this.
"867-5309/Jenny" by the New Wave band Tommy Tutone, was written by Alex Call and band member Jim Keller, and was a big hit in 1981, 19 years after the Marvelettes song, and when it came out, many felt it copied the Marvelettes' song. But while it was about trying to get a date by phone, the Marvelettes song was trying to get one with a guy that the gal danced once with and a guy she somewhat knew, while Tommy Tutone's song was trying to get the courage to call this girl who he didn't know at all and who's number he got off of a restroom wall. The crazy part is that the song was supposedly a true story, as Keller, who was the band's lead guitarist, actually met and dated a girl whose real name was "Jenny", and yes, he said that he got the number (which was her real number) off a bar's rest room wall, after his friend who knew her, wrote it on the wall for him. The band's lead singer, Tommy Heath, confirmed the story, as he also knew Jenny and claimed that Jenny wasn't all too happy when the song was written about her in that matter, as she didn't know how Keller had gotten her number in the first place.... However, and a big however at that, is that the co-writer of the song, Alex Call, claims the song and the gal wasn't real at all, and that he wrote the first part of the song and it was he who made up the number and name of the girl himself, and then Keller wrote the rest of the song. Call claims that Keller and Heath just make up that story about Jenny being real since it sounds good and makes for a great story. So more than likely, it's not a real story after all. But the song had catchy lyrics and was a big hit never less, peaking at #4 on the Billboard Hot 100 chart in '81.
There will be links to each song at the voting page, so you can hear them before you vote, but we are only rating the songs in this poll and not the videos, so do remember that… To vote in this week's second Rock poll, just click there: Classic Rock Poll, and when you get to this page, choose "Poll 2" to vote on this question.
Now let's look back at last week's 2 Rock polls, starting with the first poll question that asked this: Rate David Bowie's first ever TV performance video of "Starman"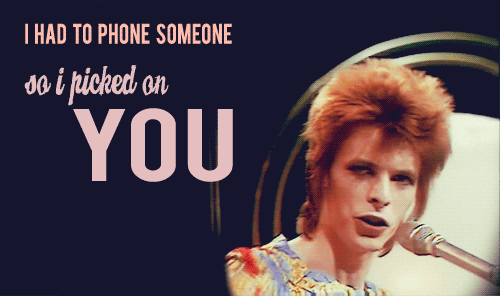 This one not only scored a "10" for its top pick, but spots 8 thru 10 took in 98.2% of all the votes, with only 0.2% of the votes voting for less than a "7"! That makes this one the highest rated video voted on so far, only not for the top pick, but for the overall vote totals above 8 goes. To see the full, final results from this poll, just click here: Classic Rock Poll 1, week 688. Or to view the results at the list page that shows how all the other videos we voted on did, you can do that by clicking here: Top Ten Lists, Page, 16, and it will be the second list you see on the page.
Looking back at last week's VS Rock poll, the question asked: 'Immigration Man' by Crosby & Nash vs 'Illegal Alien' by Genesis, which song about immigration into the U.S. is better?
vs
A major landslide took place in the voting for this one, with the winning song taking in almost 80% of the vote! Which song was that? Click here to find out: Classic Rock Poll 2, week 688. Or to see the results on the VS list page only, please go here: VS Page 3, List Page 15 and look at the bottom of the page for its listing
Now as promised, one last note on the VS poll... This may be the last Rock VS poll I run for a while. No, I'm not ending it, but starting next week, the Rock video polls will continue on, but next week they will do so as the second rock poll question of the week. The video polls have only been run as a main poll question in the past, but as I noted before, I've been running out of good VS poll questions - while there's hundreds of rock videos to vote on, and as it is, I never have a shortage of Rock poll questions, so I might as well run the video questions as the second Rock poll for the next few weeks, while I build up more VS questions, and then after that, perhaps I'll alternate running the 2 different poll themes every other week... Now I just need to come up with an idea like this for the Stones weekly poll, which only has 2 weeks left to the Stones Album VS series and then I need new questions for that one too, besides asking Stones video questions, which could be what we vote on in 3 weeks. But we're running out of Stones videos to vote on, too, and I don't want to stop asking a weekly Stones poll question. So I must think up something new for that poll real soon!
Time to wrap up this week's Poll Post, and as usual we do so talking about the Beatles poll, where we enter week 440 of this poll, and this week's question is: A Hard Day's Night (U.S. album cover) VS A Hard Day's Night (UK album cover), which cover is better?
vs
As we started to ask 2 weeks ago, this week we will continue to answer questions for at least the next couple of weeks about the Beatles album covers. This week's question is a good one indeed, since when you compare the two soundtrack albums to the Beatles movie A Hard Day's Night, we are talking about 2 totally different looking front covers. Now what's inside the 2 somewhat different LPs music wise has nothing to do with this question, as we are looking at the 2 album's covers - only here. You will be able to click on the album's title before you vote (over at the voting page) to see each one's cover, in case you can't recall what they look like (or, just look up above!).
To vote in this week's Beatle poll on which cover you like better... just click here: Beatles Weekly Poll
In last week's Beatle poll….the question asked was: Of the 2 different album covers for the U.S. Beatle LP Yesterday and Today, which one did you like better?
vs
Boy oh boy was this one close – and for the entire week! When I first came on line tonight to write up this poll post, one LP was leading, but as I'm finally rapping this up almost 3 hours later, well the other LP is now ahead! To see which album ended up first when the voting ended, just go here: Beatles Weekly Poll – week 439. Or to see the final results on the Beatles Albums list page, click on: Beatles Album Covers List Page for the results.
So that does it for yet another week's Poll Post!... This week is a holiday week in the U.S., as Monday is Labor Day, which here means and most look at Labor Day as the last day of summer, even if there's actually still 3 weeks of summer to go. Well where I live it's clearly still summer, as it's been hot as hell here for the last month, and today we set the highest temp ever reached in the month of September, at 88 degrees (F)! Sorry, but that's way too high for me, I want to see some cold weather, damn it!
Anyway, I thank all of you for voting in all of our polls!
Keno
Gasland Thread
---
Post Follow-up
---
Note: Do not hit the "Post Message" button more than once, even if it is taking a long time to post your message. Doing so may cause a double post to appear and could slow down your posting time even more.
Filter Threads/Archives
---
---
Download your free, customizable Burton Networks Message Board now!
© 1998 - 2020 by Keno Internet Services, except where otherwise noted. All rights reserved.