Colorado Web Cams
Crestone, Colorado
(Note: This page may need reloading on some browsers for new views)

The Town of Crestone is an isolated community located in south-central Colorado, in Saguache County, in the foothills of the Sangre de Cristo Mountains, one of the longest fault-block mountain ranges in the world. The webcams are located south of Crestone in the Baca Grande. The Baca is a spiritual center, with several world religions represented here, including: a Hindu temple, a couple of Zen centers, several Tibetan Buddhist centers, different retreat centers, and miscellaneous New Age happenings. Crestone's elevation is 7,923 feet, however in the Baca the elevation varies, with an average elevation of 8,100 feet. As of the 2020 census, the population of Crestone was 141, however, most of the locals live in the Baca, with an estimated population of 2,000 people.
- Click on images below for a larger view -

Crestone Peaks, Crestone CO - Click here for streaming and or time-lapse view
Looking east of Crestone at 13,941' Mount Adams (left) and 14,171' Mount Crestone (right), AKA Kit Carson Mountain, FKA Crestone Peak
(please see note on the mountains' names at the streaming page, using its above link)

The Crestone Baca looking north - Click here for streaming view
(On the far left is the San Juan Mountains. The Collegiate Peaks are seen in the middle and the Sangre De Cristo Mountains are on the right)

Blanca Peak, as seen from Crestone CO - Click here for streaming view
(looking south of Crestone at 14,351-foot Blanca Peak)




Crestone Foothills, San Luis Valley, and San Juan Mountains - Click here for streaming view
(Looking to the west. Where you see the San Juan Mountains, Wolf Creek Pass is on the left. Then near the bottom of the cam is the main road in the Baca, Camino Baca Grande)
Crestone Zoom Tour Cam - Click on Live for 270 degree Zoom Streaming Tour


Cams are located on top of the Crestone Weather Tower. These Crestone webcams come to you by Colorado Web Cams and Coloradowebcam.net.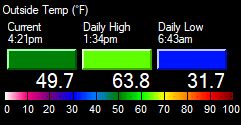 - Map -