Keno's Classic Rock n Roll Web Site


ROCK 'N ROLL BIOGRAPHY
CROSBY, STILLS, NASH (& YOUNG)
Formed: 1968 in Laurel Canyon, CA
Years Active: 1968 - 1970, 1974, 1977 - to present.
Group's Main Members: David Crosby, Stephen Stills, Graham Nash, Neil Young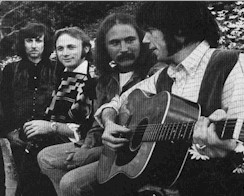 CSN&Y were pretty much rock's first supergroup. Formed in 1968 in California by former Hollies member Graham Nash (guitar), ex-Buffalo Springfield member Stephen Stills (guitar/keyboards/bass) and former Byrds guitarist David Crosby. All three members could handle lead vocals but the trio discovered that when they sang in harmony, their unique vocal blend sounded better than just about any other singing group or solo artist out there. CSN's self titled debut album, released in 1969, was perfectly in tune with songs like "Marrakesh Express"(#28 on the charts) and Stills' "Suite: Judy Blue Eyes" (#21on the charts ), written about singer Judy Collins. That summer they .went on tour. Their second show was at Woodstock where guitarist Neil Young (former band mate of Stills in Buffalo Springfield) joined them ( he would maintained a successful solo career during his time in the band, up to this day).
The first CSN&Y album, Deja Vu, took two months to make, and had advance orders for two million copies when it was finally released in 1970.The album, a classic, included three hit singles: "Woodstock", written by Joni Mitchel went to #11 on the charts, "Teach Your Children" one of their most recognized and loved song by fans, went to #16, and "Our House" made the top 30. Deja Vu itself went to number one on the charts. But after a summer tour and the release of another hit single, "Ohio" (#14 on the charts, written by Young and recorded after the Ohio National Guard shot and killed four students in an antiwar demonstration at Kent State University ), the band broke up. Four Way Street, a live double album was issued after the breakup in 1971, and was another #1 hit.
Crosby and Nash released solo and duo albums in the early Seventies and toured together, while Young continued his solo career and Stills released his solo debut with the song "Love the One You're With" peaking at number 4. In 1974, CSN&Y reformed and did a stadium tour. At that time they released the compilation album So Far. It would be their third straight number one selling album. But they would break up again that same year, finally reforming in 1977, minus Young who would not rejoin till 1986. In 1977 the quadruple-platinum CSN was released. They did a lot of touring after that and in 1982 the trio released the album Daylight Again. It was another Top Ten hit with two Top 20 singles, "Wasted on the Way" (#9) and "Southern Cross" (#18).
The early 80s were bad times for Crosby who had a heavy, life threatening drug problem, plus a number of run-ins with the law, being charged with drug and weapons possession. These charges would send him to prison. He would end up serving one year ('85 -'86) of a five year sentence. Before Crosby entered prison, CSN would be joined on stage with Young for the Live Aid Concert. While in the can, Crosby was promised by Young that he would reunite with the band if Crosby cleaned up his act. He did and was released in 1986. CSN&Y would finally get around to recording their second studio album, American Dream which was released in 1988. But Young would not hang around to tour with them. In 1990, CSN released the live album Live It Up which was the first album by them not to be a hit. Then in 1994 CSN released After the Storm which was also poorly received. At this time, Crosby, who had come clean from his drug and drinking problems, was near death with liver problems. He had days to live when he finally received a new liver. The transplant was a success.
Finally in 1999, CSN joined up once again with Young and released Looking Forward, only their third studio album in 30 years. In 2000, they embarked on their "CSNY2K" tour which was a huge success with the band playing live like they never did before. Stills and Young trading hot guitar licks, Nash still in great form and the biggest surprise (for me at least) was David Crosby. His vocals' were shot in the mid 80s, but he was back singing as strong and robust as ever, he clearly was one of the tour's best highlights.
- Keno, 2001
Return to Rock Bio Page.
- Rock Store -