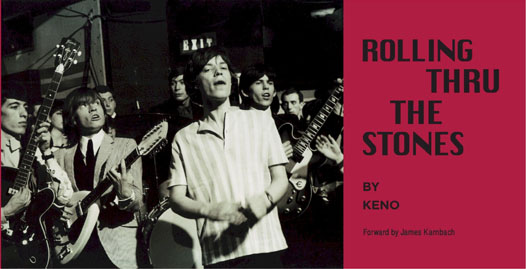 Rolling Thru The Stones
FOREWORD BY JAMES KARNBACH
$24.95 TRADE PAPERBACK - 10.5 X 8.25 ISBN: 978-0-615-28228-2
Read about the Glimmer Twins: Mick Jagger & Keith Richards!
Read about The Stones founder, Brian Jones.....
Then learn about the other Stones: Charlie Watts, Mick Taylor, Bill Wyman and Ronnie Wood!
- Along with -
Over 130 Stones photos, 98 of them never published before.
All this and more, all in one book!
Here are a few (but not all of) the chapters (and sub-chapters) from the book:
Some Songs/Some Albums/Some Movies
Stones Songs about or written for Real People (places/things)
Non-Stones Songs about The Boys
It's Only Rock 'n Roll (But who wrote it?)
Disputed Songs of the Stones
Rolling Stoned Songs
Banned Albums/Banned Songs
Movie Stones
Cocksucker Blues
Ladies and Gentleman, the Rolling Stones
The Rock n Roll Circus
That double LP – You, Me, The Boys, and Exile on Mainstreet
The end of BJ
The Anita Connection
The Death of a Rolling Stone (How did Brian Jones really die?)
Who done it?
The Aftermath
Questions & Answers
The most asked Rolling Stones questions - answered!
Internet Stones Fans (and a place called Gasland, too)
Early Internet (Before Gasland)
StonesWorld
The birth of the Land of Gas!
Live Stones
Love You Live at MSG
Colorado Stones
Up Front with the Stones!
The World's Greatest Rock 'n Roll Band
The true lead Stone, Mick Jagger
Jah Keith
The BJ Factor
The Taylor Made Years and Woody Times
Watts, Wyman and don't forget Stu
And The Beat Goes On…
Rolling Thru The Stones

"Keno has uncovered the many urban legends about the Stones with the most up to date realities through his sources and contacts throughout the Stones world. I enjoyed reading this book and you will too" - James Karnbach, music consultant, Rolling Stones insider and author, who wrote the book's foreword.
"Keno's a good writer........he's produced a book about The Stones that has a little bit of just about everything and is illustrated with a huge amount of photos, most of them in color. In fact, the photos alone are worth the price of admission." - Joyce Greenholdt, Goldmine Magazine
"I'm so very pleased to have so many of my never before seen photos of the Rolling Stones published in this well written book" - Philip Kamin, rock photographer and author of numerous rock 'n roll books
Radio interview about the book with Keno from KKFM, click: here.
To order the book using your credit card (non-signed copy): Visit most on-line book stores.