Keno's Classic Rock n Roll Web Site


ROCK 'N ROLL BIOGRAPHY
THE WHO
Formed: 1963 (as the Detours) in London, England
Years Active: 1963 through 1983.
Group's Main Members: Pete Townshend, Roger Daltrey, John Entwistle, Keith Moon, Kenny Jones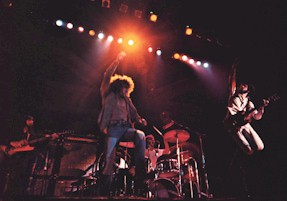 "Hope I die before I get old!" This lyric written by the Who's Pete Townshend would have to go down as perhaps rock's greatest lyric. It not only told you something about the band and its members but hit home for most of the coming of age Baby Boomers, who's generation Townshend was writing about in the mid sixties when the song "My Generation" was released.
Townshend and John Entwistle were high school friends in the late fifties who played in a Dixieland band together, Pete on banjo and John on trumpet. In 1960 they form a rock band, but in '62 Entwistle left to play bass in another rock band called the Detours. The lead guitar player for that band was named Roger Daltrey. By the end of '62 Townshend joined the band as the rhythm guitarist. In 1963 the Detours lead singer Colin Dawson quit, so Daltrey switched over to vocals and Townshend to lead guitar. A couple months later their drummer, Doug Sandom left and they hired 16 year old Keith Moon after he destroyed a borrowed drum set for his audition. In early 1964 they changed the band's name to The Who. One night while performing at the Marquee club in London, Townshend smashed his guitar on stage in frustration because of a messed up sound system. This destruction would become one of his regular performing feats for years to come.
Still in 1964, The Who changed their name again to The High Numbers while under the management of Pete Meaden . They released a single but it went nowhere, they fired Meaden, took back the name "The Who" and began to work with Kit Lambert and Chris Stamp. At the end of '64 they signed with Decca Records and in early 1965 released the single "I Can't Explain". The single became a top ten British hit after they appeared on the TV show "Ready, Steady, Go" where Moon and Townshend destroyed their instruments at the songs' ending. By the end of '65 the single "My Generation" went to number 2 on the British charts and the band was a English hit. It wasn't till '67 that the band made it in America with their second album, Happy Jack, which was released in the UK as A Quick One. On this album was the song "A Quick One While He's Away", a 10-minute mini-opera written by Townshend, his and rock's first opera. They then released a second album that year titled The Who Sell Out and the single "I Can See for Miles" became their first top ten American hit. They then released the album Magic Bus in '68 with mostly reissues of their last two albums. In 1969 the rock opera Tommy, a double album, was released. It became a huge hit, earning positive reviews from just about everywhere. That year when they toured they would play the opera in its entirety.Tommy would later be made into a movie in 1975.
After Tommy, it would be a couple of years to their next studio album was released. Townshend wanted to put out a science-fiction rock opera called "Lifehouse" but the rest of the band didn't care for it. In its place came the masterpiece (and their best ever album) Who's Next, released in 1972. A much heavier sound than Tommy, but like the rock opera, it too became a huge hit. The band's play by this point in time was so tight . It was hard to believe that the members didn't care for one another off stage, when you would watch them play together. In Townshend the band not only had one great songwriter but one of rock's best guitarist, same could be said for Entwistle's bass playing (in fact, he was the best ). Then you had Moon. Truly rock's mad man, he would pound the hell out of his drums. He was a delight to watch live. Daltrey's vocals also fit in great with the band's music, no wonder they were on fire by this time in their career.
After Who's Next, one more opera would be released, Quadrophenia in 1973, another double album, but not as big a hit. The band at this point started to have problems within and took some time off. Entwistle pissed with the lack of song writing credits formed a band called "Ox" that he performed with on the side. Townshend who had already suffered a breakdown over his rejection from the others with "Lifehouse", now had a drinking and drug problem. In 1975 The Who By Numbers was released. Not that strong an album, yet it still sold well. After another hiatus, the band came out with Who Are You in 1978. The album was a big hit and went platinum.But instead of being a comeback, the album almost marked the end for the band as Moon would die of a drug overdose on September 7, 1978. Some felt after Moon's death that it should have been the end. But they did go on for a bit more. They hired drummer Kenny Jones, a member of the band Faces, to take over for Moon. They then went on tour in 1979, a tour that was going well until the night of December 3, 1979 in Cincinnati. That night eleven fans were trampled to death in a rush for choice seats. After Cincinnati things seem to get worst for the band. In 1981 they released Face Dances which still was a hit, and the following year released It's Hard, to which it's accommodating tour was billed as a farewell tour.
So was it really now all over for The Who? Well not completely, at least as far as live shows went. Since 1985 they have reunited a total of seven times to play live, sometimes to the criticism that they were doing it just for the money. But many Who fans could care less, just to see the band play live one more time is fine with them.
- Keno, 1999
Addendum - A day before the start of yet another reunion tour, John Entwistle passed away on June 27, 2002.
Back to Rock Bio Page
- Rock Store -