Keno's Classic Rock n Roll Web Site


ROCK 'N ROLL BIOGRAPHY
THE MONKEES
Formed: 1965 in Los Angeles, California
Years Active: 1965 - 1969, 1985 - 1986, 1995 -1996, 2013
Group's Main Members: Michael Nesmith, Peter Tork, Mickey Dolenz, Davy Jones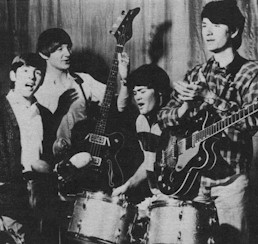 The Monkees, even today, still go down as the most successful TV rock show idea ever. That was how they came about, as an idea for a TV show molded after the Beatles movie, A Hard Days' Night. A TV show about four poor hippie band members, with lots of slapstick comedy, and of course, music too.The fact that this manufactured group turned into a real band and had a whole bunch of big hits is really, well, far out!
Screen Gems executive Don Kirshner came up with the idea after seeing the Beatle movie and hired producers Bob Rafelson and Bert Schneider to begin auditions for the show in 1965. An ad was placed in Variety, and amongst the 437 applications were Stephen Stills, Danny Hutton (later of Three Dog Night ), Harry Nilsson and Paul Williams. Only one Monkee would be found from the auditions, guitarist and songwriter Michael Nesmith, who's song "Different Drum" was a then current top ten hit for Linda Ronstadt and the Stone Poneys. Hired later from other sources were folk singer/guitarist Peter Tork, and actors Mickey Dolenz (who started out as a child actor), and Davy Jones, who didn't know how to play a note of music. They were hired first and foremost as actors for the TV show; with no plans to have an actual real life band come about. It was decided for the show that the members would be portrayed as followed: Nesmith as the lead guitarist, Tork as the bassist, Dolenz, who could play guitar, was at first going to be the rhythm guitarist, but Jones, who was to be the drummer, was deemed by the show's producers as to being too small to sit behind the drum kit and still be seen. So Dolenz, who never before played the drums, took that part and Jones, well, he was placed out front as the cute one. All four would take turns at lead vocals, but as it turned out, the two actors, Jones and Dolenz, were the better singers and in time would get more of the lead vocals, with Nesmith handling the vocals for the country rock tunes (which he mainly wrote). Yet the truth of the matter was that Dolenz was the group's main lead singer, even if that fact was never advertised.
On September 12, 1966, the first episode of The Monkees was aired by NBC-TV and in an short time the show was a hit both in the US and the UK. Their self titled debut album was also a huge hit, selling over a million copies, as was its single, "Last Train To Clarksville", which made it to number 1 on the US charts. Most of the songs were written by Tommy Boyce and Bobby Hart, and Carole King and Gerry Goffin, with just one song, "Papa Gene's Blues" written by Nesmith. But as it was, the Monkees not only weren't a band yet and didn't play as one on this album, but they were not even a true singing group yet, as they didn't work together even in that department when the disc was put together. Dolenz not only sang most of the lead vocals on the LP, but he also, alone, sang most of the backing vocals for the songs, too. Nesmith's self penned song was the only tune on the album which was close to being a true "Monkees" number, as he, Dolenz and Tork, all performed on it. The rest of the music on the album was played by session musicians.
Their next album, More Of The Monkees, also was a big hit, and its single, "I'm A Believer", went to number one in both the US and UK. On this LP they were a true singing group at least, and suddenly they were the latest and biggest pre-teen and teen phenomenon around. However the group did not like the fact that they were still not allowed to play on their albums, and they came clean to their fans about this on their own after the second album's release. Like the first LP, Nesmith and Tork were allowed to play their guitars only on the Nesmith penned songs; so when they let their fans know they weren't happy with this fact, their management listened and gave in, since the TV show was now a huge hit. So the Monkees got what they demanded, being that for the next album, Headquarters, they all would play most of the instruments as a true band, with just a couple of guitar session players backing them.
Headquarters would go on to prove that the Monkees did indeed have more than just acting talent, by far it was their best album. Nesmith would supply three new songs plus lead and steel guitar to the album. Tork added guitar, keyboards, banjo, bass and one penned song. Dolenz by now was not bad on the drums, yet he didn't care to play them, in part because he still was the main lead vocalist. Yet he still played drums on every track on the LP, along with playing rhythm guitar and keyboards, too; plus he wrote the album's closing number. Jones, well, he learned to shake the maracas real nice, but really, he was the band's second lead singer and the main ladies man in the group. Headquarters was released in May of '67 and was a huge hit and a really nice piece of work from the boys. The Monkees were not just a TV singing group anymore, but now a real band. They went on tour after the album release and played for real in front of their fans. This tour featured the famous, if not totally out of aliment pairing of the Monkees and Jimi Hendrix. Hendrix, who was still unknown, opened for the Monkees. In November of '67 the Monkees released their fourth album, Pisces, Aquarius, Capricorn And Jones Ltd. which, dare I say, was a psychedelic masterpiece. The album did have a bit of country rock on it, but more psychedelic tunes. One of those psychedelic songs "Daily Nightly", was the very first rock song to use the new Moog synthesizer (which was the very first synthesizer), played by Dolenz. "Pleasant Valley Sunday" was another number one hit and the Nilsson cover song "Cuddly Toy" was also well recieved.
Things would start to wind down for the group in 1968. On March 25, their final TV episode was screened and the next month their next album, The Birds, The Bees And The Monkees was a disappointment as they returned to using more session musicians to record most of the album. But the album did spawn two big hit singles "Daydream Believer" and "Valleri", with most of the lead vocals on these two sung by Jones. "Valleri" in fact had been recorded back in '66 and only featured Jones and Dolenz singing on it. Next, The Monkees embarked on a feature film, Head, which upon its release got poor reviews and seemed to be viewed by noone. Tork left the band after Head's release and the remaining trio continued on without him. They released two more albums that bombed and the band, now going nowhere fast, broke up in '69. They reunited in 1985 (minus Nesmith) for a successful tour, but the new studio album they released, Pool It, was called "horrendous" in reviews, and they broke up the next year. In 1995 all four of the Monkees reunited for an UK tour and released a new studio album in '96, Justus. The album was the first Monkees album to feature all original material from the group members and was produced by Nesmith. It got good reviews and was a minor hit. It was nice to see the entire band back together recording again after so many years.
- Keno, 2000
Addendum 1 - On February 29, 2012, Davy Jones passed away at the age of 66, dying suddenly from a heart attack.
Addendum 2 - On February 21, 2019, Peter Tork passed away at the age of 77, after losing his 10 year battle with cancer.
Back to Rock Bio Page
- Rock Store -